Is your bathroom outdated? Do you need additional space or special features? Perhaps it's just not meeting your desired look and feel. We can transform your bathroom into your favorite oasis.
Take a look at this past bathroom renovation project.
This bathroom remodel was part of an entire first floor renovation. The old bathroom was demoed down to the studs and fixtures were reconfigured in the space. Updates were made to electrical, plumbing, and HVAC as well as new drywall and finishing throughout. A new closet was built out quadrupling their storage as well. The finished bathroom was a beautiful space that the client was very happy with.
Before
After
Before
After
Other Bathroom Projects
Frequent Project Add-Ons
Window Replacements
Replacing your windows might not be a part of your original project scope, however, maybe it should be. There are many benefits such as improved energy efficiency, enhanced home security and safety, nevermind the resulting increase in the value of your home.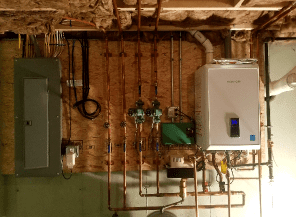 Navien Water System
Adding a high efficiency gas tankless water heater that is paired with a water filtration system is worth the investment, saving you money and increasing your home's value. Benefits include providing endless domestic hot water, enjoying safe drinking water at all times with improved taste, helping to prevent skin irritation, and reducing potential plumbing issues. Reach out to us to learn more.
Health and safety is our top priority
We take health and safety very seriously at Kats Construction & Remodel. During the renovation process, we make sure that there aren't any other issues along the way before proceeding to the next step in the process. If we find something, we'll let you know promptly. Then we will figure out a solution to fix it before continuing. You won't see us overlaying potential issues like rot, mold, or mildew. Your home's future integrity is safe with us.
Tom Comeau
Tom's, Kats Construction & Remodel company is absolutely amazing. They completely remodeled the basement for Regina and was able to do it in a timely manner, she was very happy with the work that was done. It is nice and comfortable and warm even in the cold months, just an absolutely amazing job, absolutely amazing people, courteous and prepared even in this time of the pandemic. The most professional people we have ever dealt with can't say it enough.
In the future will definitely use Tom's company for any of our future projects that are going to be done in the house
John Foley
Used Kats Construction for a significant redesign in our kitchen / living area and I will be going with them for any future projects. Tom is very responsive, explains the scope clearly and is accurate. His team are model professionals and experts in their trade, and they cover everything. Generous and patient with their time to explain. Prices are competitive, my scope changed during the project, got other quotes and always went with Kats due to the certain quality at market price. Their finishing at the end was exceptional, attention to detail beyond what was asked even when at cost to themselves. No hidden costs throughout the project. Enjoying living in what feels like a new home. Thanks to all the crew - Tom, Nick, Matt, Alex, Jesse, Rick, Bob and Perry
Mary K
We used Kats Construction to put up a new deck this summer. The owner Tom explained everything in detail regarding materials needed, the scope of the project, cost, etc. Alex did an amazing job installing the deck and his craftsmanship and attention to detail are top notch. We would highly recommend Kats Construction.
Tamir H
Tom and his team did a complete kitchen remodel. The project was seamless from start to finish. Everyone showed up on or ahead of time. Throughout the project, Tom communicated very clearly where we were and what the next steps were (with dates and times). Tom also facilitated the purchase and installation of the cabinets and granite countertop which was very helpful.
We are very pleased overall with the quality of work. We would highly recommend Kats Construction and Remodel!
Chester Page
Kats construction enlarged & remodeled our bathroom. We are very pleased with the quality of their work. They are cooperative to work with & go out of their way to please. The job was completed ahead of schedule. We would recommend them to anyone. C & E of Nashua
Mark B
We recently had a very large bathroom remodel done by Tom and the team from Kats Construction. The quality of work done by the team was excellent, and Tom kept in frequent communication via calls and texts throughout the project. The cost was very reasonable, and Tom worked with us through several changes in plan that occurred throughout the project. This was a fairly complicated job with a lot of custom work, and Tom continuously worked to make sure every detail was taken care of exactly how we wanted, and to keep us at ease throughout the project. It's hard to find people who take the time to get the job done right and take pride in their work, but Tom and his team are definitely those types. I highly recommend Kats Construction for this type of job.
Mike Catalano
Very fair pricing on work and great communication throughout the entire project. Attention to detail was fantastic. I would definitely recommend Tom and his crew to anyone looking to have some great work done on your home.
Jesse Andrews
I've used Kats Construction on multiple projects and I'm always impressed with Toms professionalism and attention to detail . He won't leave a job unless his customer is happy with the job . I'd highly recommend this Company to family and friends
Joel Porter
I had a new deck put in summer of 2012 and a new roof put in summer of 2013 kats construction was very professional and very reasonable in there price job only took 3 days for the deck and 1 day for the roof i will be using them in the future for more work!!!
Service Areas
Amherst, NH
Bedford, NH
Brookline, NH
Hollis, NH
Hudson, NH
Londonderry, NH
Merrimack, NH
Milford, NH
Nashua, NH