Decades of Remodeling and
Construction Experience
Kats Construction & Remodel has an outstanding reputation among the industry, continually nurturing long lasting partnerships with exceptional trades workers. Have peace of mind knowing that we are fully licensed and insured in NH, and we can provide a certificate of insurance upon request. We want you to be happy with our work, and will make every effort to see that you are.
Quality Workmanship
Our trades workers have been doing their specialities for decades, and it shows. With all that experience comes onsite learnings, as well as technical training and certification, that help you in the end. You won't find us cutting corners on your job, it's just not the way we work. We do things right and go above and beyond to make sure what we've done will last in your home for many years to come.
Professional and Reliable
Communication is key, and we are really good at that. You will never be left wondering about your project status and we will be on site when we say we will be. If things change, we let you, timely. It's as simple as that.
Exceptional Customer Service
We care about your home as if it were our own. We take pride in the steps we take to care for it during your renovation project. The crew has years of professional moving experience meaning they take those extra steps to protect your home. It really is white glove service to the next level.
Reputable
Our customers become repeat customers, and we are proud of that. Projects always have unforeseen challenges, but no matter what happens, we're there to work with you and figure out a way to resolve the issue so that you are happy. Take a look at what others have said in our testimonials below.
Valued Relationships
Long lasting relationships with our clients and trades professionals sets Kats Construction & Remodel apart from the rest. We value these relationships and consider them to be a cornerstone of our success. That success wouldn't be possible without our quality driven construction professionals who make it all happen.
Our Process = Respecting Your Home
Your home is important to you and we understand that. We have a professional moving background, and that benefits you and your investment. The last thing we want to do is cause unnecessary damage to your home while working on your project, that is why we take the extra time to protect it.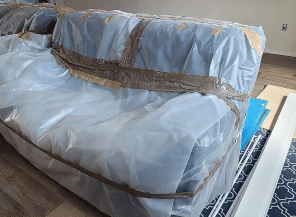 Typical Preparation and Protection Steps
Part of our process in starting your renovation project is protecting areas inside and outside of the scope of work. That includes laying interior and exterior ground and floor coverings, especially in high traffic areas. We also wrap furniture with thick blankets and plastic, and install temporary plastic walls to protect areas of your house from residual debris.
Clean Up Throughout the Project
At the end of each work day, any debris is disposed of and project materials are tidied up in preparation for the next work day.
Extra Clean Up at the End of Your Project
We bring a professional cleaning crew in to do a major cleaning of your new space. It will then be move in ready and you can just enjoy the beautiful changes we made to your home.
Tom Comeau
Tom's, Kats Construction & Remodel company is absolutely amazing. They completely remodeled the basement for Regina and was able to do it in a timely manner, she was very happy with the work that was done. It is nice and comfortable and warm even in the cold months, just an absolutely amazing job, absolutely amazing people, courteous and prepared even in this time of the pandemic. The most professional people we have ever dealt with can't say it enough.
In the future will definitely use Tom's company for any of our future projects that are going to be done in the house
John Foley
Used Kats Construction for a significant redesign in our kitchen / living area and I will be going with them for any future projects. Tom is very responsive, explains the scope clearly and is accurate. His team are model professionals and experts in their trade, and they cover everything. Generous and patient with their time to explain. Prices are competitive, my scope changed during the project, got other quotes and always went with Kats due to the certain quality at market price. Their finishing at the end was exceptional, attention to detail beyond what was asked even when at cost to themselves. No hidden costs throughout the project. Enjoying living in what feels like a new home. Thanks to all the crew - Tom, Nick, Matt, Alex, Jesse, Rick, Bob and Perry
Mary K
We used Kats Construction to put up a new deck this summer. The owner Tom explained everything in detail regarding materials needed, the scope of the project, cost, etc. Alex did an amazing job installing the deck and his craftsmanship and attention to detail are top notch. We would highly recommend Kats Construction.
Tamir H
Tom and his team did a complete kitchen remodel. The project was seamless from start to finish. Everyone showed up on or ahead of time. Throughout the project, Tom communicated very clearly where we were and what the next steps were (with dates and times). Tom also facilitated the purchase and installation of the cabinets and granite countertop which was very helpful.
We are very pleased overall with the quality of work. We would highly recommend Kats Construction and Remodel!
Chester Page
Kats construction enlarged & remodeled our bathroom. We are very pleased with the quality of their work. They are cooperative to work with & go out of their way to please. The job was completed ahead of schedule. We would recommend them to anyone. C & E of Nashua
Mark B
We recently had a very large bathroom remodel done by Tom and the team from Kats Construction. The quality of work done by the team was excellent, and Tom kept in frequent communication via calls and texts throughout the project. The cost was very reasonable, and Tom worked with us through several changes in plan that occurred throughout the project. This was a fairly complicated job with a lot of custom work, and Tom continuously worked to make sure every detail was taken care of exactly how we wanted, and to keep us at ease throughout the project. It's hard to find people who take the time to get the job done right and take pride in their work, but Tom and his team are definitely those types. I highly recommend Kats Construction for this type of job.
Mike Catalano
Very fair pricing on work and great communication throughout the entire project. Attention to detail was fantastic. I would definitely recommend Tom and his crew to anyone looking to have some great work done on your home.
Jesse Andrews
I've used Kats Construction on multiple projects and I'm always impressed with Toms professionalism and attention to detail . He won't leave a job unless his customer is happy with the job . I'd highly recommend this Company to family and friends
Joel Porter
I had a new deck put in summer of 2012 and a new roof put in summer of 2013 kats construction was very professional and very reasonable in there price job only took 3 days for the deck and 1 day for the roof i will be using them in the future for more work!!!
Service Areas
Amherst, NH
Bedford, NH
Brookline, NH
Hollis, NH
Hudson, NH
Londonderry, NH
Merrimack, NH
Milford, NH
Nashua, NH